2020 Ram 1500 vs 2020 Ford F-150 in Truro, Nova Scotia

Truck sales in Canada have witnessed a drastic increase over the years. They are taking up much more of the market than ever before. However, one fact is quite glaring; pickup truck buyers spend their hard-earned money on brands they love and trust. It is all in the numbers, 2019 was considered the fourth-strongest year for new vehicle sales in Canada, and pickup truck sales rose to an all-time high of 407,749 units. These numbers are quite staggering because pickup trucks sales were never this high, even when fuel prices are hovering around $1.00 a litre. Full-size pickup trucks accounted for 21 percent of all new vehicles sold in 2019, which is over 27 percent more market share than a decade ago.
2020 Ram 1500 Available Near Bible Hill, Nova Scotia
The segment has seen an evolution as truck buyers have gravitated towards a new kind of truck, a truck that offers the luxuries of a sedan coupled with the capability of a pickup. It's no surprise that automotive consumers from Bible Hill, Nova Scotia and Brookside, Nova Scotia, have inquired about the differences between a couple of the best full-size pickup trucks available. The Ford F-150 vs the Ram 1500 in Truro, Nova Scotia. These two manufacturers have recently been locked in a fierce battle for pickup truck supremacy. With the Ram taking home Motor Trend Truck of the Year honours for two straight years and AJAC pickup winner for Ram 1500 EcoDiesel.
Fortunately at Motor Hub Group, we have a fantastic selection of 2020 Ram 1500 trucks for sale. Our new vehicle inventory is sure to have the trim and colour you are looking for. We also offer the option of apply for financing online, so please take advantage, and get the process started early. We understand that the Ford F-150 deserves respect, so we are excited to conduct a comparison between the two. Please continue reading to learn more.
2020 Ram 1500 vs Ford F-150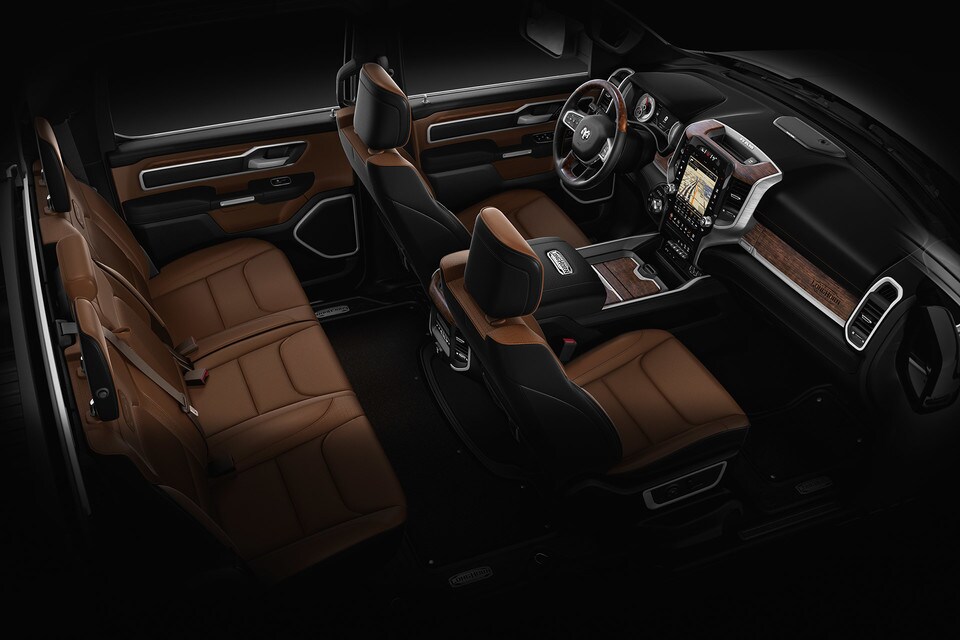 Interior Comparison
The 2020 Ram and F-150 both offer an extensive suite of features that are sure to please automotive consumers. Automotive Journalists have preferred the Ram's interior over anything else in the segment with its upscale luxury appointments and its superior specs. This is not to say the F-150's interior is terrible, but it just doesn't compare to the Ram. Not only does the Ram offer more features at the base level it also provides unique features the F-150 simply doesn't have.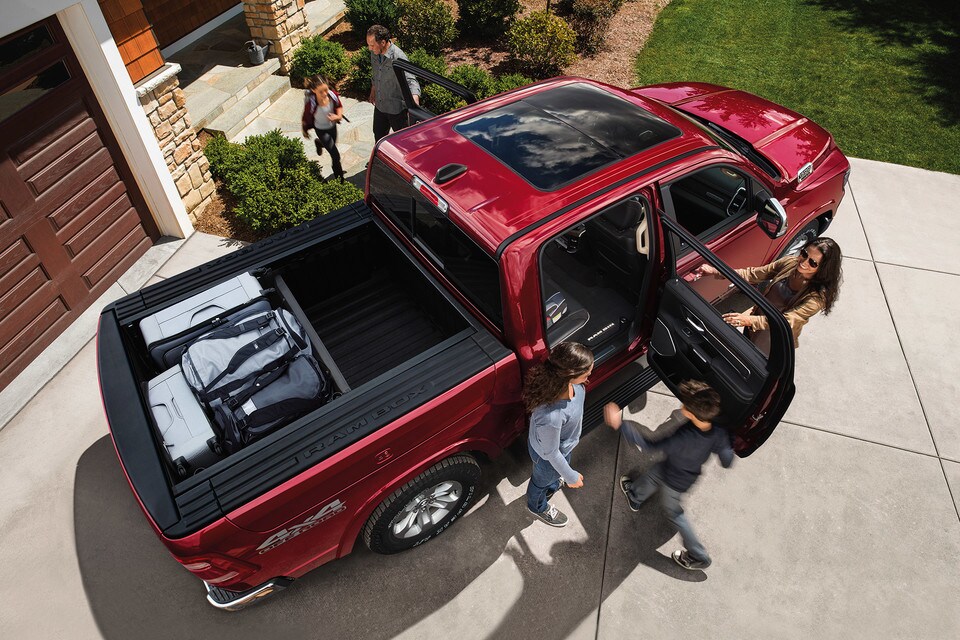 Safety Features Comparison
Every manufacturer has placed safety at the top of their to-do list because most automotive consumers have as well. Both the Ram 1500 and Ford F-150 feature many standard features like electronic stability control, rearview camera, tire pressure monitoring, and trailer sway damping. If you want to add extra features, they both offer a lot of them, including pro trailer backup assist, Adaptive cruise control, blind-spot monitoring and lane-keeping system, to name a few. It is safe to say they are both equipped to keep you and your occupants protected.
There is a reason why these two heavyweights are the most sought-after pickup trucks in the segment. They offer a level of comfort, convenience, performance and technology the other entries just can't compare with. Though they share many of the same ideas and concepts, they are divided by the points that really matter to truck customers. At Ram, we can help you get into a Ram with all its great features, and if you have a trade-in use our online trade in value tool. It will provide you with a rough idea of how much your vehicle is worth.
Performance
Both of these vehicles offer a slew of engine options; the main reason for this is to cater to the various truck buyers out there.
The Ram:
3.6L Pentastar V-6 with eTorque offers up 305 horsepower and 269 lb.-ft of torque. Max. towing is 7,730 lbs. Max. payload is 2,300 lbs.
5.7L HEMI V-8 with eTorque delivers 395 horsepower and 410 lb-ft. of torque. Max. towing is 12,750 lbs. Max. payload is 1,830
3.0L EcoDiesel V6 produces 260 horsepower and 480 lb-ft. of torque. Max. towing is 12,560 lbs. Max paylod is 2,040
F-150
2.7L turbocharged EcoBoost 325 horsepower and 400 lb.-ft. of torque.
3.0L Power Stroke Diesel 250 horsepower and 440 lb.-ft. of torque. Max. towing 11,500 lbs. Max payload 1,980 lbs.
3.3L Ti-VCT V-6 290 horsepower and 265 lb.-ft. of torque. Max towing 7,700 lbs. Max payload 1,990 lbs.
3.5L EcoBoost 375 horsepower and 460 lb.-ft. of torque. Max towing 13,200 lbs. Max payload 3,230 lbs.
High-Output 3.5L EcoBoost 450 horsepower and 510 lb.-ft. of torque. Max towing 11,100 lbs. Max payload 1,520 lbs.
5.0L Ti-VCT V8 395 horsepower 400 lb.-ft. of torque. Max towing 11,500 lbs. Max payload 3,270 lbs.
Towing and Payload
If you refer to the statistics above, you will notice both trucks offer impressive numbers. However, when comparing the base models, the Pentastar V-6 offers more payload and horsepower.
It is apparent that these two trucks are great; however, the Ram has received more awards and third-party accolades. Speaking of awards, Ram features an award-winning service centre that is prepared to repair or maintain your vehicle. If you have any questions regarding any of the information we have covered today, please don't hesitate to contact us.